Natural Formula

GMP Certified

Unique Formula

Vegetarian Capsules

Preservative Free
Natural Formula

GMP Certified

Unique Formula

Vegetarian Capsules

Preservative Free
Why choose Ayurveda?
Ayurveda cures the root problem, not just symptoms

The holistic medicine aims to restore health by understanding the underlying causes of the diseases. It strives to attack the root causes and detoxifying, cleansing, strengthening body tissues (dhatus) and balancing bodily doshas, ensuring complete cure.
Who We Are?
In the year 1990, the company started with a trading activity of medicinal plants and cultivation of medicinal herbs in the region of North Karnataka. Started with the name of 'KRISHMA FARMS' the company has supplied quality raw materials and herbs to various ayurvedic and herbal drug manufacturers.

Our major buyers are companies like Dabur Zandu Baidhyanath, Himalaya, and many other manufacturers of ayurvedic products. The company has also exported raw herbs to the USA and Canada. The company has an experience of 20 years in the field of collection and cultivation of medicinal herbs. We also have in-house capabilities in identifying about 200 medicinal plants /herbs.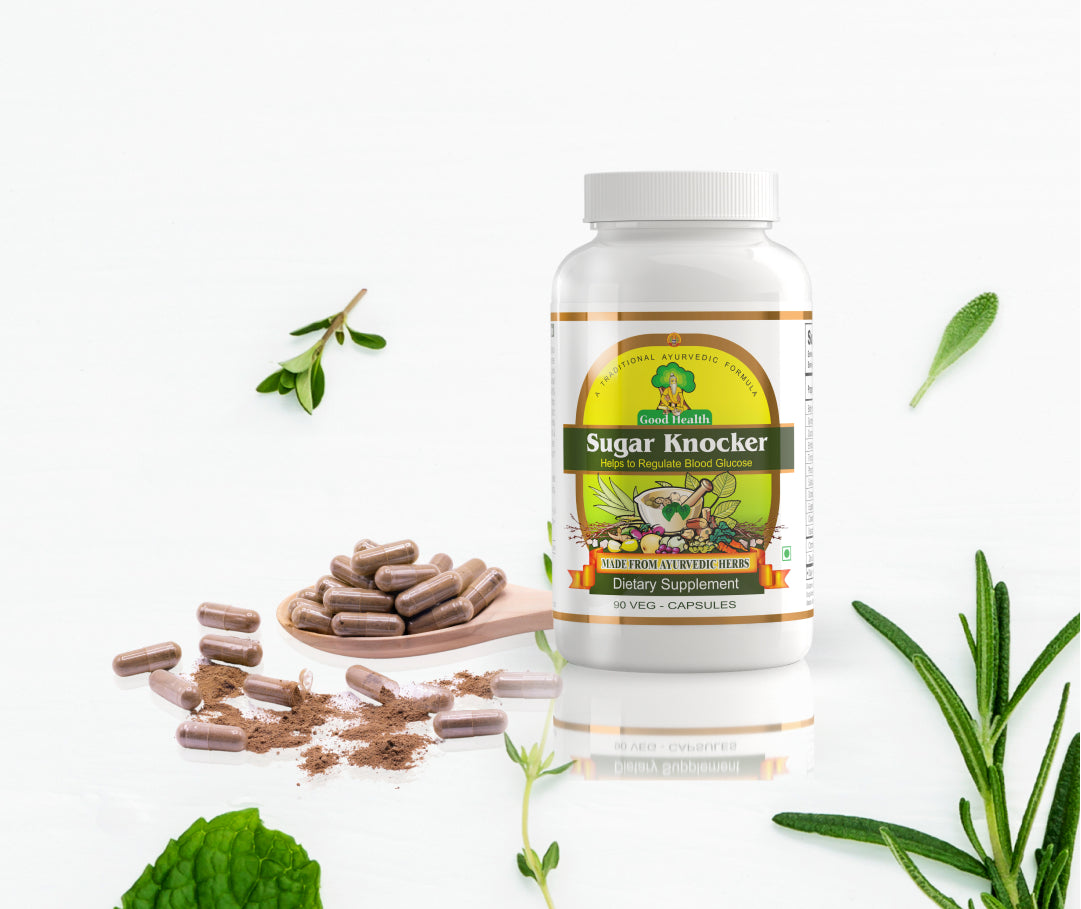 Why choose Us ?
Based on ancient Ayurvedic Treatment of diabetes, Sugar Knocker has been a very effective herbal supplement that has helped numerous people to manage the level of sugar in their bodies. It is a supplement that we make using eleven very powerful herbal extracts and minerals. The powerful impacts of the medicines have been tested by well-known Ayurvedic Physician Dr. Seetharam Prasad, MD at Kayachikitsa.
Top reasons to use Sugar Knocker
It has all the Goodness of Ayurveda
100% Natural Herbal Product.
Sugar Knocker is made up of 11 natural herbs extracts, which considered to be most anti-diabetic, such as Bitter Melon, Gurmar, Vijayasar, Salacia, Black Jamun, Indian Gooseberry, Heart-leaved moonseed, Holy Basil, Turmeric, Cinnamon, Banaba.
Based on ancient ayurvedic formula.
In Ayurveda, diabetes is referred to as 'Madhumey,' and as part of its treatment, Ayurveda, suggests opting the principles of Aahaara, Vihaara, Aushadhi.
Helps to regenerate beta-cells of the islets of Pancreas.
Sugar Knocker focuses on holistic health improvement along with solving problem of diabetes. It ensures to control your diabetes as well as attempts to rejuvenate the pancreatic beta cells of the diabetic.
It helps to increase the uptake of glucose by the cells.
Sugar Knocker not only focuses on controlling sugar level but also starts working on a root cause of diabetes. In short it gives permanent solution by removing problem from root and not temporary by controlling sugar level.
Exerts insulin-like action.
Natural herbs used in Sugar Knocker are anti-diabetic in nature, exhibits medicinal properties as described in the books of Ayurveda and acts like insulin like action.
It helps to regenerate the lipid mechanism.
Lipid metabolism is the process that most of the fat ingested by the body is emulsified into small particles by bile and then the lipase secreted by the pancreas and small intestine hydrolyzes the fatty acids in the fat into free fatty acids and monoglycerides.
No Side Effects
Best Ayurvedic Herbs for diabetes are being used in Sugar Knocker which are regarded as safe for human consumption and They do not have any known side effects on you even if you are under prescribed medication.
What Our Customers Tell

Sugar Knocker is extremely effective and much better than the traditional insulin and other latest allopathic medicine for diabetes.
MR. RAO

Sugar Knocker is a safe and good Sugar lowering product which one can depend on. I found it very much suitable for Ayurveda Treatment For Diabetic Neuropathy.
VASUDEVAN NAYAR
Frequently Asked Questions
HAPPY & HEALTHY CUSTOMERS
CUSTOMER SATISFACTION RATIO
COUNTRIES CUSTOMERS SERVED
YEARS OF EXPERIENCE IN HERBS
Take a Diabetes Controllability Test
With Sugar Knocker
Explore How Ayurveda Can Help You To Check The Possibilities of Controlling
Blood Sugar Levels.
Get Your reports Now